Today is International Digital Preservation Day.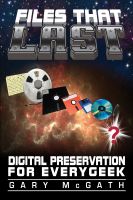 In honor of the day, I'm offering Files that Last: Digital Preservation for Everygeek on Smashwords at its lowest price ever. Today only, you can get it for $0.99 with the coupon code
AM26N. This is a one-day sale, so get it now if you don't already have it!